Become a Dealer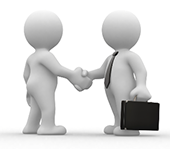 At InfraredSaunaParts, we take great pride in our products and excellent customer service. We want our customers to be 100% satisfied while buying with confidence. We make sure that all of our dealers are authorized and intend to be great sellers while providing various support to our customers.

As part of our mission and goal, InfraredSaunaParts.com is actively seeking to develop mutually beneficial, long-term, business relationships with dedicated and enthusiastic dealers that are willing to partner with us. Being in business since 2001, we have found that the key to our success has been the growth of our dealership network. If you have a genuine interest in helping us promote our product, while at the same time increasing your own sales revenue, so you can become a member of our team!


Here are some great reasons on how you can benefit from our programs:
If you have sold infrared saunas in the past! Now you have a reliable source to obtain parts for your customers.
We have many great accessories that come with our products.
As a manufacturer we strive to give the best quality in today's market.
Our company has reliable tech support along with great customer service for all customers just a call away.
​All of our parts are in stock and ready for shipment.
We have great discount margins depending on what program you enroll.
​Warranty is in place on every single product that we carry.


Please complete the form below and a representative will contact you within 48 to 72 hours.